2016.04.25 Monday
Srirajah Rockers from Thailand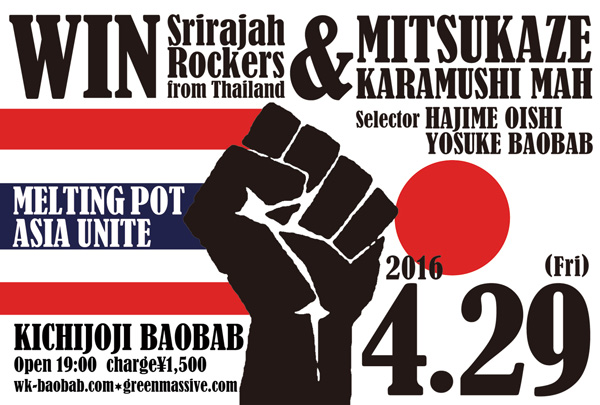 今タイを代表するレゲエバンド"Srirajah Rockers"の リーダーWinが来日してます
Srirajah Rockersの新しい音源のmixを、日本が世界に誇るサウンドメイカーにお願いするためにです
金曜4.29(金祝)に吉祥寺バオバブでWinとグリーンマッシブのメンバーでセッションします
Winはやさしくて強くて演奏も上手くて歌も上手い、すばらしい男です
バンコクでバッタリ会った時もすごく良くしてくれました
皆さんに紹介したいです!
ぜひお越しください!
Win of The Represent Thailand Reggae Band "Srirajah Rockers" has come to Japan now.
This session is Win & members of Green Massive in Kichijoji BAOBAB on Friday 4.29!!
Win is kind but strong man , very good musician and very good singer!!
He was very very kind to me when I had meet him at Bankok.
I want to introduce him to you !
Please come all Muzik Lover!
*Srirajah Rockers
https://www.facebook.com/Srirajah-Rockers-18006796034/